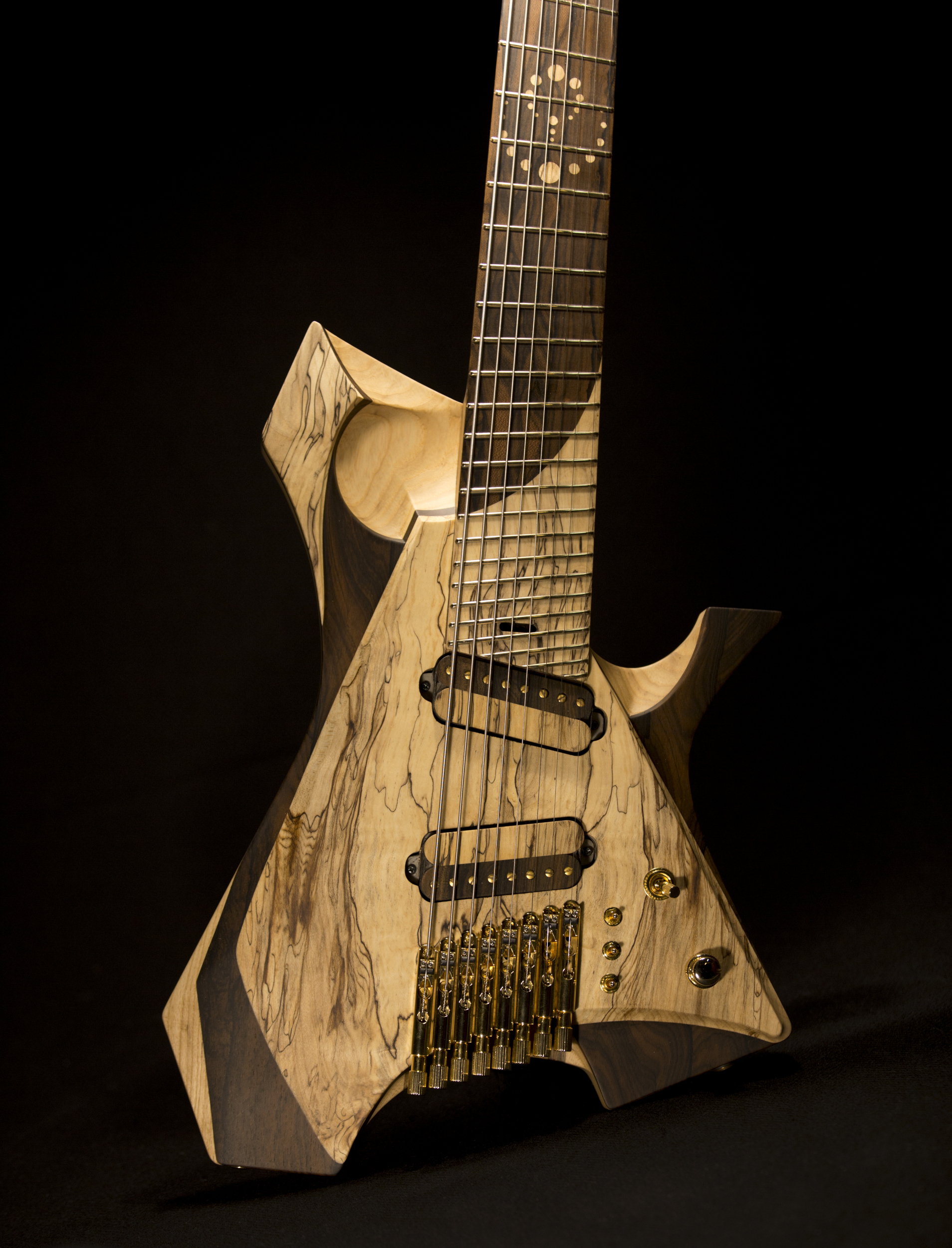 Après de nombreuses et longues discussions et échanges de croquis avec Apok Folken, nous y sommes arrivés !
Je suis heureux de vous présenter cette guitare 8 cordes complémentent folle, la « Apok Signature »!!
· Design et conception par Apok Folken !
· Conseils, conception et fabrication par Noé Guitares, fait main dans mon atelier en France.
 Un grand merci à Mathias (Apok) d'avoir mis ses idées, ses souhaits et sa confiance entre mes mains. C'est sans nul doute le projet le plus fou et le plus passionnant que je n'ai jamais réalisé !
8 cordes, Headless :
– Double table en érable spalted et ziricote
– Corps swamp ash
– Manche traversant 7 plis en black limba, bubinga et amarante, renforts carbone
– Touche ziricote
– Multiscale 26.5/28 '
– Micros Custom Rythmisacat
– GHOST Piezo, Graphtech
– EMG VMC Control
[ENG]
Finally ! After many and long time discussions and sketches exchanges with Apok Folken, we made it !
I'm glad to introduce you to my first ever 8 string, the « Apok Signature »!!
· Design and conception by Apok Folken!
· Advice, also conception and manufacturing by Noé Guitares, handmade in France.
A big thanks to Apok Folken for having put his ideas, wishes and trust in my hands. Undoubtedly the craziest and most exciting project I've ever made ! I really enjoyed all the process of making this guitar, talking over with Mathias (Apok) was really enriching. And the building process was also really interesting and chalenging. The handmade sculpting work was very pleasant, and I'm quite proud of the result.
Headless 8 strings :
– Spalted maple and Ziricote double top
– Swamp ash body
– Black Limba, bubinga and Purpleheart neck, carbon reinforcements
– Ziricote fingerboard
– Multiscale 26.5/28′
– Custommade @rythmisacat Pickups
– GHOST Piezo, Graphtech
– EMG VMC Control